From the Huffington Post Canada: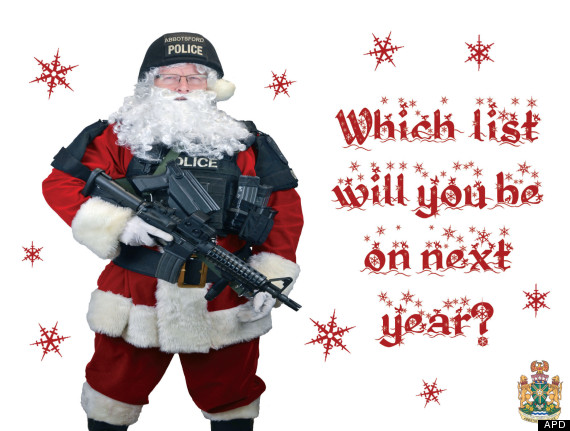 In the spirit of the holidays, Abbotsford police are sending Christmas cards to gangsters and drug dealers featuring the police chief dressed as Santa in tactical gear.
A message in the card says: "We believe it is never too late to make a better choice for your life. For the sake of your family & for your own sake, consider 2013 the year you choose a new & better life. Make your New Year's resolution now! We're here to help."
The cards are being sent to "prolific offenders, property offenders and persons known for drug and gang activity," said police in a news release Monday.
Call me oversensitive, but if the police sent a card like this to me, my first call would be to the crown attorney to ask that they be charged with sending me threatening mail. My next call would be a civil litigator to sue the department for harrassment. Given that the police have been known to shoot people from time to time, I think it would be considered a credible threat. What's the difference between this and the cops sending out a note like this with "happy Valentine's Day" printed on the back?

pics on Sodahead
As to the cops Christmas card list of supposed ne'er-do-wells, I imagine a good trial lawyer might have something to say about presumption of innocence and predjudical treatment should any of them land in court.
If you sent a neighbour you had repeatedly quarrelled with this kind of picture with note that said "You better stop letting your dog shit on my lawn or else" and were known to own guns, well, as they say "I am not lawyer, but..." You can bet that if one of the recipients of these cards sent back a photo of themselves with an assault rifle that read "thinking of you this Christmas" they would be in jail by Boxing Day.
If someone from the Occupy Movement had themselves photographed as Saint Nick holding a bag of feathers and a pail of hot tar and sent it out to a bunch of Wall Street types with the message "He knows if you've been bad or good, so you better be good for goodness sake" just imagine the howls of outrage. Don't think for a second they wouldn't be prosecuted. Why should the police be treated differently?
Tweet